Surveyor Spotlight
The Board of Licensure would like to shine a spotlight on some of the talented surveyors licensed to practice in the State of Mississippi. 
Licensees featured on this page are selected randomly.
August 2020 Surveyor Spotlight:  Patrick M. Martino, P.L.S.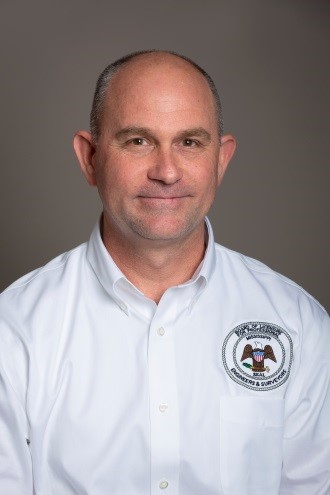 The Mississippi Board of Licensure for Professional Engineers and Surveyors would like to shine a light on Board Member and Professional Land Surveyor Patrick Martino.  Patrick has been licensed in the state of Mississippi since 1997 and is the proud owner of Patrick M. Martino Professional Land Surveying which he started in 2003.
Check out some of our conversation with Patrick below:
Q1. Where did you attend college or university and what was your major?  
"I obtained my license by on the job training and through mentoring with Mr. Gene Stenum, PLS."
Q2. How long have you been practicing eng and / or surveying and when were you first licensed?  
"I have been practicing Land Surveying since 1992. I received my PLS license in 2001 and started Patrick Martino, PLS Inc in 2003 and have practiced surveying since 1992."
Q3. How long have you served on the licensure board?   
"The first board meeting I attended was on August 7th, 2019. "
Q4. Why is professional licensure important and what advice would you give your younger self?   
"Professional License is important to ensure order in the physical world and land development in our communities from the planning and design of developments and subdivisions, roadways, as well as, individual parcels of land, which assist in ensuring the protection of the health, safety, and welfare of the public. I was very fortunate to have Mr. Stenum teach me vital aspects of surveying.  If I had to start the profession of land surveying all over again, I would chose to learn to better communicate and interact with the individual land owners, and adjoining land owners, in a more effective manor to help prevent and resolve minor problems before they escalated into hard feelings between neighbors."