Update your contact information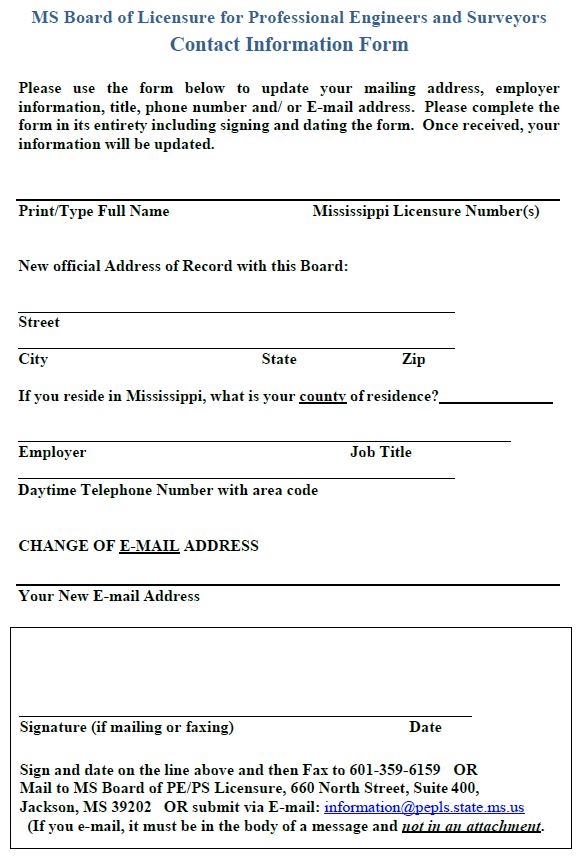 Updating your contact information with the agency is easy.  An individual licensee can log in to our secure online system and update his/her contact information.
Instructions to use the secure online system:
Step 1. Click on the link below. You'll be taken to the Log In page.
Step 2. Log in, with your information. After successfully logging in, you'll be asked to confirm or change your email address.  

If your internet browser software has not been updated in several years, you may not be able to use the online renewal system. Examples of compatible browser software versions are: Internet Explorer 8.0 or later, Mozilla Firefox 3.6 or later, or Google Chrome. Please understand we are not able to assist or advise you with updating your browser software.

Can't log in? In response to our licensees' requests, the "log in" procedure no longer requires the full social security number, but it does require Date of Birth as an additional security feature.

So if you attempt to log in and receive a message indicating "the licensee entered data was incorrect", first be sure you have not entered a zero at the front of your MS license number, and also be sure to enter your date of birth in this format: MM/DD/YYYY. If you still can't log in, it may simply be a matter of an incorrect date of birth in our database.
For assistance, please send your log in details to the Executive Director at: information@pepls.state.ms.us
Still having trouble logging in?  
An alternative way to submit a change of address or phone number or to update your employer is to complete the address change form and submit it to the agency either by fax at 601-359-6159 or as a pdf document via E-mail at information@pepls.state.ms.us
---
---
Be advised that the Mississippi Ethics Commission has ruled that the state public records law requires the Board to furnish the following licensee information in response to public records requests: name, address, employer, telephone number, and email address. So if you have both a public email address and a private email address, it is suggested that you use your public email address in online transactions with the Board.